--- the subscriber area has no ads and those above are not selected or endorsed by this site ---
RESN OMIB, LUMN dividend, plus macro and GLNG perspective
+3
10:14 21-May-21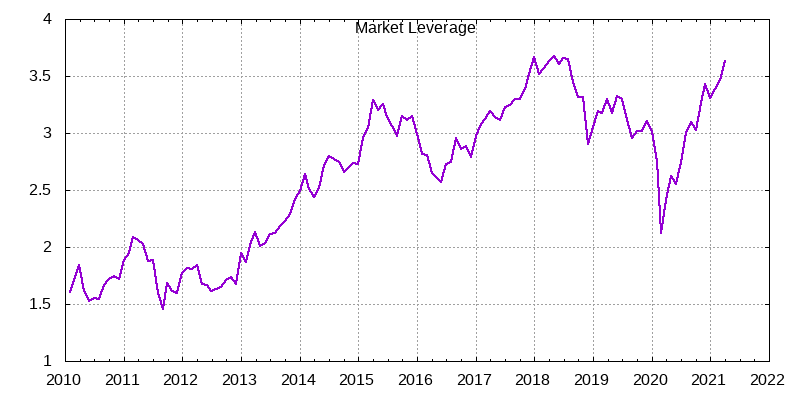 A Resonant Director
bought
5000 shares on the open market on Tuesday at $2.87 increasing his stake by over 13%.  I had already
noted
that shares were worth considering at then reduced prices but that it continues to be a tough market for GRoDT stocks.  That remains the case as market leverage continued to rise in April, though I expect the pullback in early May will come to be seen as a healthy pause in that trend, especially with weekly unemployment claims dropping.  However, the latest
housing
data does make it look like the seller's market beginning to change.  So I regard the purchase as a positive sign for Resonant, but am more willing to risk missing out than to hurry to add shares.
I think the trend away from
megacaps
will continue with multinational
progress
on global corporate taxes.  This is relatively good for Amdocs, which continues to
score
new
wins
, compared to what was floated previously.  Summer tax legislation would also finally set BGC Partners up for a potential corporate transformation decision in the fall.  The
anti-megacap
rotation is proving positive for dividend stocks like LUMN, which shrugged off a downgraded timed to precede its dividend
announcement
which specifies May 28th as the next ex-date.  I look for PPL to follow suit with a U.K. announcement soon.  I'll also continue to looking to mispriced international stocks like HIMX, EBIX and GLNG, which is rebounding today.  In include a subscriber discussion for comparing its recent history with BGC's for perspective:



On 5/20/21 2:22 PM, Esekla wrote:


Yep, completely agree.  My intention was not to run management down, just to say that investor trust is hard to regain once you take on risk and get burned, even if it's not your fault.  To continue the BGCP analogy, Brazil's politics and handling of the pandemic had parallels to 9/11 and eSpeed.  The risks were always vaguely there and they definitely had pronounced business impacts, but the timing of each was completely unpredictable.

If you don't tell me that you mind, I may wind up quoting this conversation at some point after all.



On 5/20/21 2:06 PM, a subscriber wrote:


First time I saw your response, thank you for resending. Agreed the HYGO deal was bittersweet and could have been better but I'm not sure that was solely the result of management. Clearly, management has their shortcomings (part 2 of the bungled financing is buying back shares for ~$11.50 they recently issued at ~$8.75 is the latest example) but they did the best they could with the collapse of the maritime MLP space and poor LNG shipping markets preventing the shipping divestment. Other LNG focused MLPs & their parent companies (DLNG, GLOG & GLOP, HMLP and TGP)

 

fared as similarly or worse as GMLP over the past several years. I think SLB and BP pushed their weight around intentionally with GLNG because they could. Very low/negative oil prices and COVID-19 were convenient excuses to reduce risk with projects in "developing" countries. It's not like GLNG could do much about them. GLNG was smart not to burn those bridges and engage in expensive and frivolous litigation. Getting pushed around by partners with more money is generally the way of the world, unfortunately. Perhaps SLB decides to reconsider given the better execution with proof of technology and lessons learned, as you say. Troim, GLNG's Chairman, seems to be a bit of a market pariah like Lutnick but both know how to build value. The key with both is if regular shareholders will ever see the benefit. I think so for both but being a GLNG investor the past few years (and BGCP over the last 18 months) has been painful and my patience is definitely thin. Obviously, I wish I could time these names & their broader markets better but I've been averaging my positions down since fundamentals remain intact (and improving) and I see the next 1-2 years with the current set ups as "now or never" for both.




I think this didn't actually go out the first time.  Apologies if you're seeing it twice.

On 5/20/21 1:18 PM, Esekla wrote:


Thanks,  I think I already covered the quote a bit more succinctly, and I would say your last paragraph has a bit of a rose-colored hue.  Golar got a decent profit on its Hygo investment, but I had characterized the deal as bittersweet.  As I pointed out in this note, though conditions are currently good, the long-term value of the shipping business is something I and apparently others have wanted to see monetized since you first suggested the company.  The Schlubmerger deal fell through, and BP forced a delay.  I think the new balance sheet is under-appreciated, and that we'll see better execution with proof of technology and lessons learned.  So, you can probably understand the current credibility problem after investors have seen bungled financing while the company got pushed around by partners with more money.  The comparison to BGC's strategy is apt, but not exactly a ringing endorsement from a correction to current share price perspective either.  The positive difference with Golar at present is that we can put dates on some of the catalysts, and I've done my best to spell those out.

Esekla



On 5/20/21 12:31 PM, a subscriber wrote:


Great update and I agree the upside looks very compelling currently. I would add this interesting quote about FLNG from the press release: 




"Our FLNG segment has a contract earnings backlog1 of $3.4 billion (Golar's share), an unparalleled operational record and attractive growth prospects. In order to capture hidden value in this segment and to potentially accelerate FLNG growth projects we will consider partnerships at either a project, asset or business level."




I think a partnership at the FLNG business level (granted we already saw one with SLB) could really serve as an explosive catalyst for GLNG shares now that HYGO value has been realized and the shipping business value is more clear. It seems the pieces are finally falling into place for GLNG. I see this as similar to BGC's current strategy of demonstrating the underlying asset value via a deal since the market won't recognize it with a strong fundamental tailwind.